Victoria: "I'm a winner!"
After years of struggling with extra weight, Victoria is finally feeling happier and healthier with the help of SlimJOY products. In 28 days, she lost 11 kilograms and 16 cm around the waist, making her the winner of a competition organised by SlimJOY. Victoria tells us she wants to keep going and plans on using our products in the future too!

What's the secret to successful weight loss?
1. Making the choice to change something
2. Making a plan
3. Perseverance
Victoria, a biotechnology engineer from Bucharest, knew she needed to make a change. SlimJOY entered her life at exactly the right time! "I know I still have a way to go, but I made the right decision when faced with the option to either keep wallowing in self-pity or act! There are so many dangers associated with an unhealthy lifestyle, I wanted to do everything I could."
"I noticed a change within the first couple of days"
We all know that starting is the hardest part, but Victoria found a way to make it easier. With the help of SlimJOY products,** she felt energised and motivated: "I noticed the change within the first couple of days, I felt very energetic and my sleep improved. I started eating healthier and started taking Zumba classes - I really recommend it!"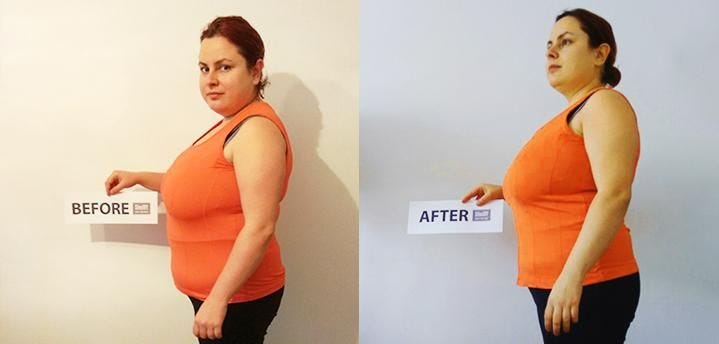 "I was able to lose 3 kg per week"*
When Victoria started using SlimJOY products, she weighed 80 kg. About 34 kilograms more than her ideal weight! Once her weight loss took off, she couldn't believe the progress she was making: "I was consistently losing 3 kg per week for a whole month." Victoria also tells us: "SlimJOY products inhibited my appetite and sped-up my digestion. In addition, the drinks taste really good."**
* [Disclaimer: The effects of the product may vary between individuals and could differ from those described on the website. ]
"Everyone around me noticed my progress!"
From 80 kilograms to 69 in 28 days!* "Everyone around me noticed my progress and encouraged me to continue."
I know very well what it means to have a serious problem with weight…"
Victoria is happier than ever, but she still remembers what she went through: "I know what it's like to have a problem with weight and for others to judge you because of how you look. I could write a whole book about all the anxious feelings the stigma surrounding weight can bring up! It's not easy, whoever says it's easy hasn't been through it."
"This is just the beginning!"
Our winner is delighted by her results, but she's not stopping now. She wants to reach her ideal weight and continue with her healthier lifestyle and SlimJOY products.
"I recommend SlimJOY products to everyone that wants to start living a healthier lifestyle and needs some help boosting their weight loss!"
**[The customer used a previous edition of this product. Try the improved version now!]