Lucie: "Everybody has been complimenting me on how much weight I've lost!"
Lucie is a 30-year old who has been unsuccessfully trying to lose weight for a long time. "I have been struggling with being overweight my whole life! Only drastic diets helped me lose weight for a while, but then I always gained it all back – and then some."

"I dreaded every glance at the mirror!"
The constant battle with excess weight took a big toll on her confidence. "I didn't like my body, I dreaded every glance at the mirror and my self-esteem was buried a foot underground. I used to wear baggy clothes to cover my body. I felt unattractive and was constantly feeling down."

But Lucie found a way to get her weight under control. "My body has been boycotting my every effort to lose weight - until I came across SlimJOY, which has helped me start and support weight loss without any diets."
"I was most impressed with the natural ingredients!"
"I came across your ad on social media. I was most impressed with the natural ingredients and how simple it is to use them!" Lucie decided to try several products.

"I have been using AdipoSlim EXTREME** capsules that prevent yo-yo effect for 4 months now," she says. "I have been using AquaSlim EXTREME (now WaterOut XXL), which has helped me to get rid of excess water straight away. I really enjoy Slimmiccino, the fat burning coffee – it is extremely tasty and fragrant. I drink Cleanse Tea, too - it's really effective! I also use NightBurn, a delicious drink that prevents night-time fridge raids."
"I've lost 24 kilos"
Lucie also made some lifestyle changes and noticed the first improvements after a month of using our products.
"I started working out with a personal trainer, adjusted my diet and with the support of your products, the weight started to come off quickly. I have a lot more energy! I don't suffer from swelling in my arms and legs and my belly isn't bloated anymore."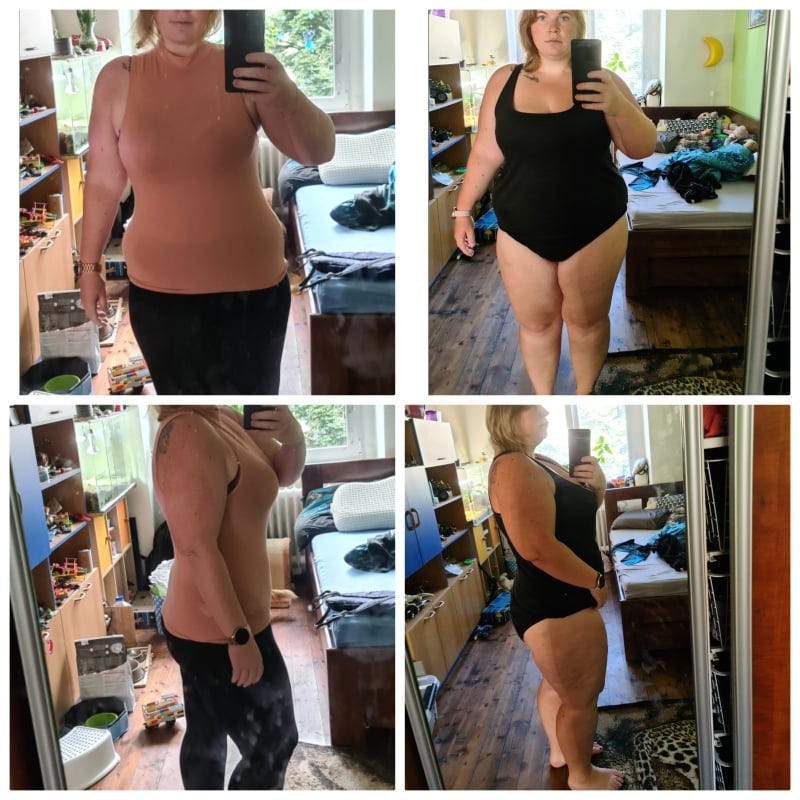 "I have lost 24 kg* so far! I'm starting to regain the confidence that was buried deep underneath."
"When I walk by shop windows, I sometimes stop to look at myself!"
Most importantly, her progress has changed how she feels about her body. "I feel great! I finally dare to look in the mirror. When I walk by a shop window, I sometimes stop to look at myself. I can finally say I have done something for my body and regained control over it."
"A lot of people don't even recognise me"
"Everyone has been complimenting me on how much weight I have lost! I've been hearing nothing but praise and support from all sides! A lot of people don't even recognise me!"
"I still have a long way to go, but I believe that with SlimJOY products, my weight loss will continue."
SlimJOY - the smartest way to tackle weight loss
If you're after a body makeover like Lucie's, SlimJOY will help kickstart your weight-loss journey.

Our 30-day Belly Slim Bundle will help you reduce your waist size: WaterOut XXL will make sure you get rid of any water retention and bloating, while AdipoBurn XXL will attack the stomach fat directly.
Continue by flushing out toxins with Cleanse Tea – it also improves your fat burning!
We also have the perfect day-night bundle to help you actively lose weight 24/7! Boost fat burning with your morning cup of Slimmiccino and suppress your evening appetite with NightBurn XXL.
*Disclaimer: The effects of the product may vary between individuals and could differ from those described on the website. Our products are not intended to prevent, treat or cure any disease or serious illness. Maintaining a  balanced diet and a healthy lifestyle is important.
**AdipoSlim Extreme has been renamed to AdipoBurn Extreme. Only the name has changed, the ingredients and the benefits have stayed the same.